No.
It's one of the shortest sentences in the English language, but most people have the hardest time wrapping their minds and tongues around it, at least situationally. We can look at ourselves naked in the bathroom mirror and shout it at the tops of our lungs, and we can usually manage it if someone asks us whether we want a fried egg on our hamburger, but barring those simple examples the word becomes more and more difficult to say.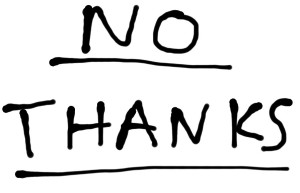 But it's not really the word itself, is it? It's the implication of rejection that we all perceive goes along with using it. We don't want to hurt someone's feelings, or appear self-absorbed, so we don't say it. Then we do something that we didn't really want to do in the first place. Then we complain about it and hold it against the other person.
Don't lie, that's usually how it goes.
Let's do an exercise together : take a minute to think of all the times you'd have liked to say 'no', and didn't. Don't go crazy, 'cause this could take all day…narrow it down to the last week or month or so. Did you help someone move when it was really the last thing you wanted to do? Did you babysit for someone's rotten kids or go out dancing on a night you'd rather have stayed home? What about all those times that the 'no' would've been implied through your actions, and you chose to go with the flow? Have you answered the phone later than is acceptable to listen to a friend/relative complain about something you've heard before? Or maybe you just didn't voice your dissenting opinion when somebody said or did something you thought wrong. Have you 'gone along'?
Go ahead. I'll give you a minute.
…
…
I think that if we're all honest, we can come up with *at least* one example of a situation where the word (or concept) NO would've been warranted. And we missed it. We were afraid of it, or it was too complicated, or we've just been programmed to people please to an extreme.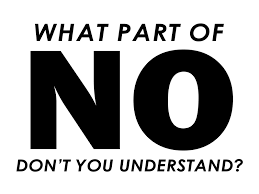 The above question is for US, not for them. Why is it so hard for us to choose ourselves in the equation and simply demur? Honestly, I think it's because we're all a bunch of lazy chickens. We don't want to have to explain ourselves for fear of being judged selfish or negative. We automatically assume that the other party will take offense at our use of the word, and godforbid we should offend anyone. Heavens to Betsy! What a terrible world we'd live in if everyone didn't get their way all the time.
What a joke.
Learn to say no. Learn to accept that the way another person reacts to your use of the word is up to THEM, not you. Learn to be okay with someone being offended or even mad when they don't get the answer they're expecting – especially if you've trained that person to expect nothing less than complete compliance from you (your fault, by the way, not theirs). We cannot control what other people do; we can only control what we do. And the more we reserve the use of the big bad 'no' word, the harder it becomes to say it when it's really necessary. You don't have to put on your Mean Face, and you don't have to square your shoulders and make Direct Eye Contact. You can simply smile and say, "Yeah, no. I don't think so. But thanks anyway."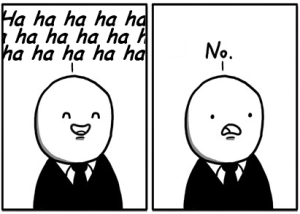 Warning : Sometimes other folks won't have good home training, and they'll continue to push even after you've used the magic word. They'll try to cajole, joke, guilt, and eventually outright force you to change your mind, your feelings, or your plans. These people we will refer to as 'assholes'.
You have no responsibility to assholes. They're rude, pushy, and obviously lack social skills. For them, only one answer will suffice :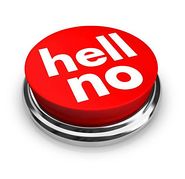 –  Dana