So there's that.
Yep. Just when you thought my life was nothing but dirty movies lately, here's proof that I have, indeed, been doing something besides 'that'.
I wrote a little book.
I'm calling it a mini-memoir.
That's Dana-speak for 'that's all I have to say about that', or, even more pointedly, 'that's probably all you want to know about that.'
Anyway, the book's not about spanking. Well, not specifically, although the word does occur occasionally.
It's about my intro to professional BDSM – it's non-fiction, it's pretty darn gritty, and it's (in my ever-so-humble opinion) funny.
It's called  Dungeon Dilettante  –  Adventures in Pay-to-Play S&M
Here's the link (in the Amazon/Kindle store):  Dungeon Dilettante eBook on Amazon    (It's part of Kindle Unlimited, so if you're a Prime or Unlimited member you can read it for free!)
(Here's the link for Amazon UK – and the one for Amazon Canada.)
And the cover :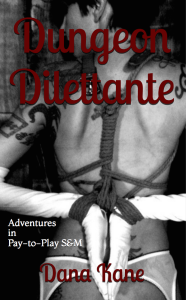 Do a girl a favor.  If you read it – take a minute to leave a review on the Amazon/Kindle site. (I am not attached to the number of stars, nor do I expect you to be anything other than honest in your assessment, but, as always, your opinion really does matter – especially as I'm in somewhat uncharted territory with the format/content, and will be tickled with the feedback.)
oxxo
Dana
Thanks to the lovely folks kind enough to leave reviews for the book! Take a look: