Readers,
One of my famously fun playmates came to visit me here in Las Vegas a few weeks back, and I wanted to help make his trip as enjoyable as possible. So we had Game Night at my place.
Rousing rounds of Abacus Math, Spin the Bottle (previously approved by DrZ to be both fun and safe), and Discipline Darts were followed by my favorite game of the night…
A game I called "A…'s Marks – Test Your Strength"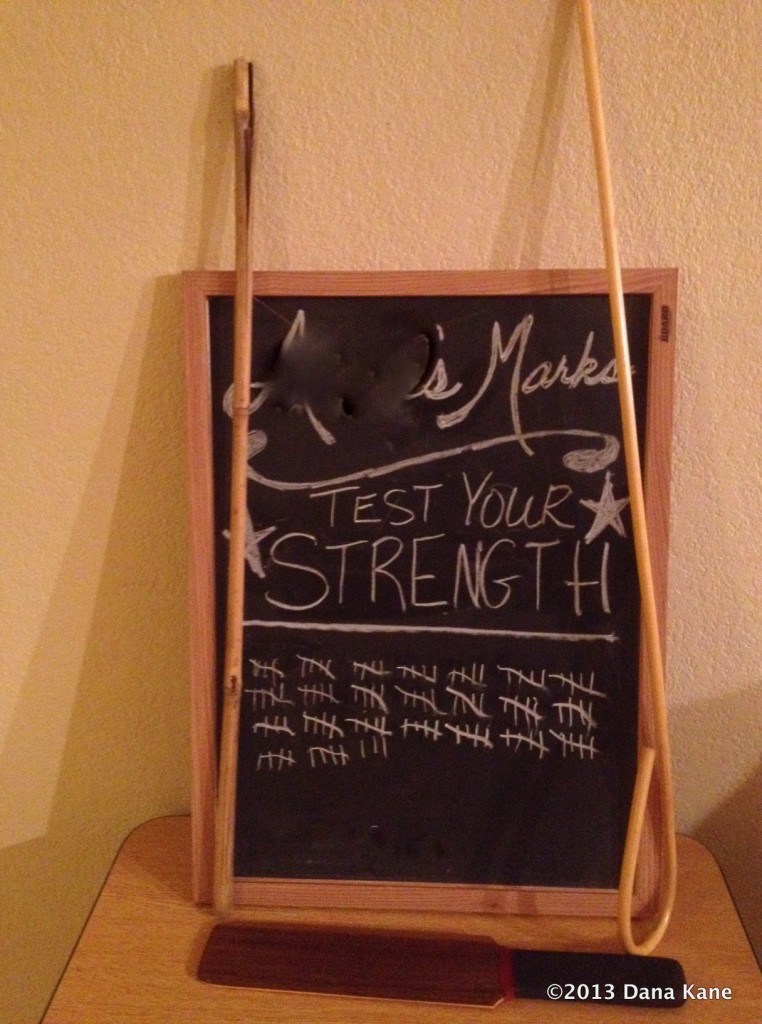 Thus titled because  a) my playmate's life partner's name is A…, and b) she specifically requested that he receive marks during our playtime that evening.
(I LOVE it when partners participate in and/or request discipline!)
The object of the game was to make sure that he went home the next day with a well-marked behind – in the name of his lovely wife – while testing his mettle at the same time.
Using the pictured Marwood paddle, I administered firm strokes to his bare cheeks while he was bent over and making chalk marks for each and every whack. Look closely and you'll see that many of the chalk marks are pretty wobbly, which should attest to what he was feeling at that moment. The end of the game was simple – he had to admit that he couldn't take any more paddle whacks. I stopped when he said 'when'.
But there was just a little more to the game…
The final, additional twelve marks signify six with the awful ugly stick (pictured left, and cracked at the end if you look closely) followed by six with the schoolhouse cane. The final three chalk lines slant sharply upward – perfectly in conjunction with my telling him that the final three would be the most severe…and they were. 
He forwarded photos of the game board to his lovely wife before and after the round was over, and she seemed amused at the concept.
I was further tickled to receive an email a few days later, saying that not only had he had a lovely time, but that his wife had had an even more lovely time taking advantage of his sore bottom, once he'd returned home. Awesome!
When I talk about 'playing spanking', it's things like this about which I am specifically talking; no other reason to spank or be spanked than the joy and fun and freedom of the act – and maybe a couple brusies (but only if your wife insists).
This couple rocks, as do all my great spanko friends and playmates, and have agreed to allow me to share the photos and mostly true story above with you…many thanks to them.
-  Dana